EPPC's Technology and Human Flourishing Project, directed by Senior Policy Analyst Clare Morell, is dedicated to exploring how technology can both advance and undermine human dignity and human flourishing. It seeks to provide resources to families, policymakers, and civil and religious leaders to help them navigate the promise and peril that modern technology offers. The project partners with scholars and experts as well as industry leaders to better understand the impacts, for good and ill, of our contemporary technological world.
Goals of the project include:
Protecting kids from the harms of social media and restricting the production and dissemination of online pornography, especially to children
Empowering parents with knowledge and resources to protect their children from digital dangers
Combating Big Tech's censorship of certain political and religious viewpoints
Investigating and addressing social media's role in facilitating online child sexual exploitation and human trafficking
Holding Big Tech companies accountable for illicit and criminal content distributed on their platforms
Advocating for Section 230 reform to end Big Tech's improper use of the immunities Section 230 currently provides them
Leading conversations and convening key organizations and scholars to thoughtfully and critically evaluate the ways that technology can hinder or support human flourishing and the common good.
EPPC's Technology and Human Flourishing Project works with members of Congress, state legislators, state attorneys general, and other policy makers and organizations to build a diverse coalition for developing robust policy solutions that will protect children online and hold Big Tech companies accountable for their harms, in order to realign these firms' incentives to serve the best interests of all Americans. At the same time, it works with scholars, practitioners, parents, religious and other civic leaders to help empower institutions of civil society to better exercise their own control over technology to harness it for good, and prevent it from harm.
Senior Policy Analyst Clare Morell is the director of the Technology and Human Flourishing Project. Before joining EPPC, Ms. Morell worked as an Advisor to Attorney General Bill Barr. As part of her work for the Attorney General, she helped oversee the President's Commission on Law Enforcement and the Administration of Justice and served as editor of the Commission's final report. A major focus of the Commission's report was the challenges that Big Tech presents to law enforcement for gaining lawful access to crucial intelligence in criminal investigations and in hosting and facilitating criminal activity. Ms. Morell also supported the Attorney General's work on Section 230 reform as one of his main priorities.
---
Making Smartphones and App Stores Safe for Kids
Federal, State, and Industry Measures
This brief presents the current harms to children caused and facilitated by smartphones (and tablets) and the app stores they host, driven by Big Tech companies' financial incentives that misalign with the welfare of kids. The device-and-app-store industry has been virtually unregulated, especially for child safety. We present several possible solutions for lawmakers and industry leaders to implement, which ensure devices and their app stores are safer for children and bring much-needed accountability.
---
Protecting Kids Online: Model Legislation
Parents are effectively powerless to oversee their children's online behavior, and there is a collective nature to the harms of social media. These laws restore parental authority and provide parents a means of enforcement for age verification and parental consent. These laws open up channels of litigation for parents to hold platforms accountable, which have been closed to them till now.
---
Social Media and Harm to Children
We have a severe public health crisis on our hands: America's children and teenagers are literally dying from social media. They are more depressed and anxious than ever before.
---
Age Verification: Policy Ideas for States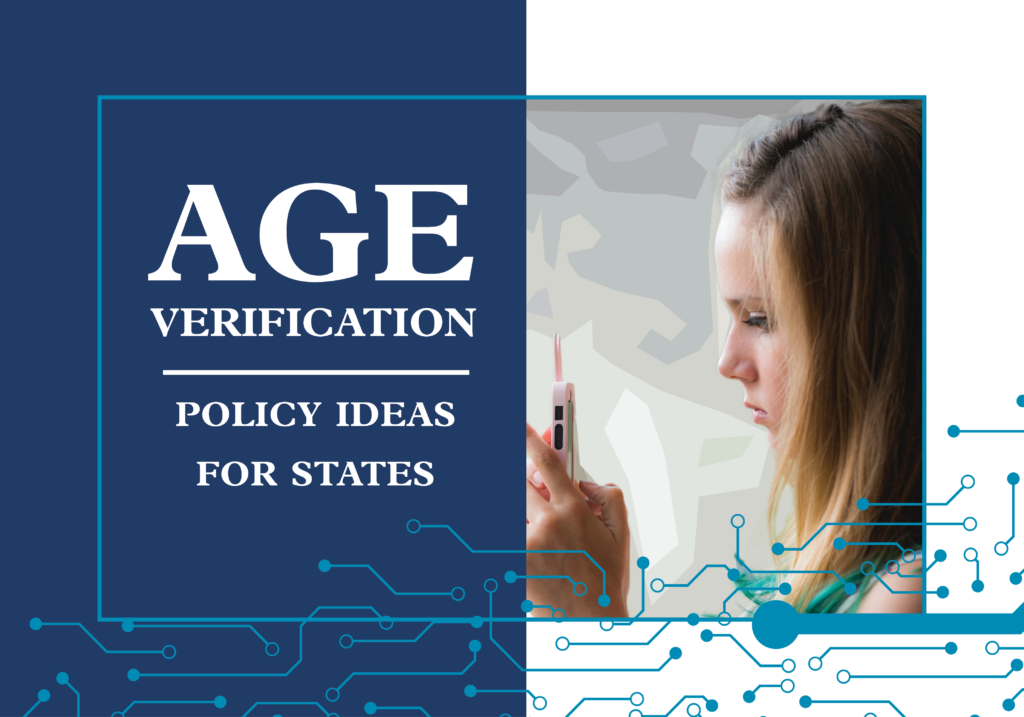 The evidence is increasingly clear that social media is harming young people. As a result, both states and the federal government are considering strategies to better protect kids online.
---
Four Legislative Proposals for States to Protect Children from Online Obscenity
The effortless availability of pornography in every home in America would have been inconceivable twenty-five years ago. Only adult bookstores or similar venues sold such materials, and parents could more easily control what entered their homes and what material their children purchased and viewed. The internet and smartphones undercut parents, making images of all types available to children with little effort and considerable privacy. To control pornography from flowing into their homes, parents would have to cut their children off from the internet, monitor all smartphone use, and/or install filtering technologies that are difficult to use and often easily circumventable.
---
Combating Obscenity on the Internet: A Legal and Legislative Path Forward
Obscenity has never been more prolific in our society than it is now due to the internet. Enforcement has not been able to keep up with the sheer volume of obscenity online because of the narrowness of the legal definition of obscenity and roadblocks Congress and courts have placed in the way of successful prosecution. Stronger laws and prosecutions against obscenity are thus needed. In this joint report released by the Ethics and Public Policy Center and the Center for Renewing America, we offer a robust legal and legislative framework for combating obscenity online. The report offers strategies for successful prosecutions against obscenity, as well as proposing policy changes that would enable more obscenity prosecutions—both creative policy solutions that operate within existing legal precedents, as well as bolder solutions to directly challenge unhelpful current precedents. The amount of and access to online obscenity today is a dire situation, especially for our children. Action is needed now. This report offers a path forward.
---
Raising a Family in the Digital Age: A Technology Guide for Parents
The guide details the real threats and harms that today's social media platforms and digital technologies pose and equips parents with practical tools and resources to help them best protect their children. We hope this guide will help in navigating the challenges of parenting in today's digital age by empowering parents with the knowledge and tools they need.
---
Protecting Teens from Big Tech: Five Policy Ideas for States
---
Reports from EPPC and Center for Renewing America on Restricting Children's Access to Pornography
What Congress Can Do to Restrict Children's Access to Pornography
What States Can Do to Restrict Children's Access to Pornography
---
---