The Question of Marriage
A Lecture by Hadley Arkes
Friday, October 8, 2004
In this lecture, Professor Hadley Arkes explained how the most serious challenge in principle to the traditional laws governing marriage in fact reveals the deeper flaws in the argument for same-sex marriage.
AUDIO RECORDING OF THIS EVENT
Event audio, part one (MP3 format, 41 megabytes, 75 minutes)
Event audio, part two (MP3 format, 2 megabytes, 4 minutes)
THE LECTURE SERIES
This event is part of our "American Culture and Democracy" lecture series. Click here to see the complete list of lectures in this series.
SPEAKER BIOGRAPHY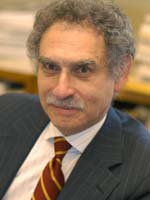 Hadley Arkes was an EPPC Senior Fellow, and the Edward Ney Professor American Institutions at Amherst College. His most recent book is Natural Rights and the Right to Choose (Cambridge University Press, 2002).